1. Introduction:
Shwe Shan is one of the popular games in Myanmar because this game has simple rules and similar playing cards as Shan Koe Mee , it is as Advanced to show up Users mind skill and their talents. Shwe Shan's special feature is that User has to arrange the cards of 3 Level and can quickly turn to high cards at Level 2 and 3 with their thinking style. This article below will show you how to play Shwe Shan .

2. How to play Shwe Shan and rules:
Shwe Shan is a kind of card game which players can play at least 2 to maximum 6 people in a table.
Firstly, all of players have 5 seconds to start.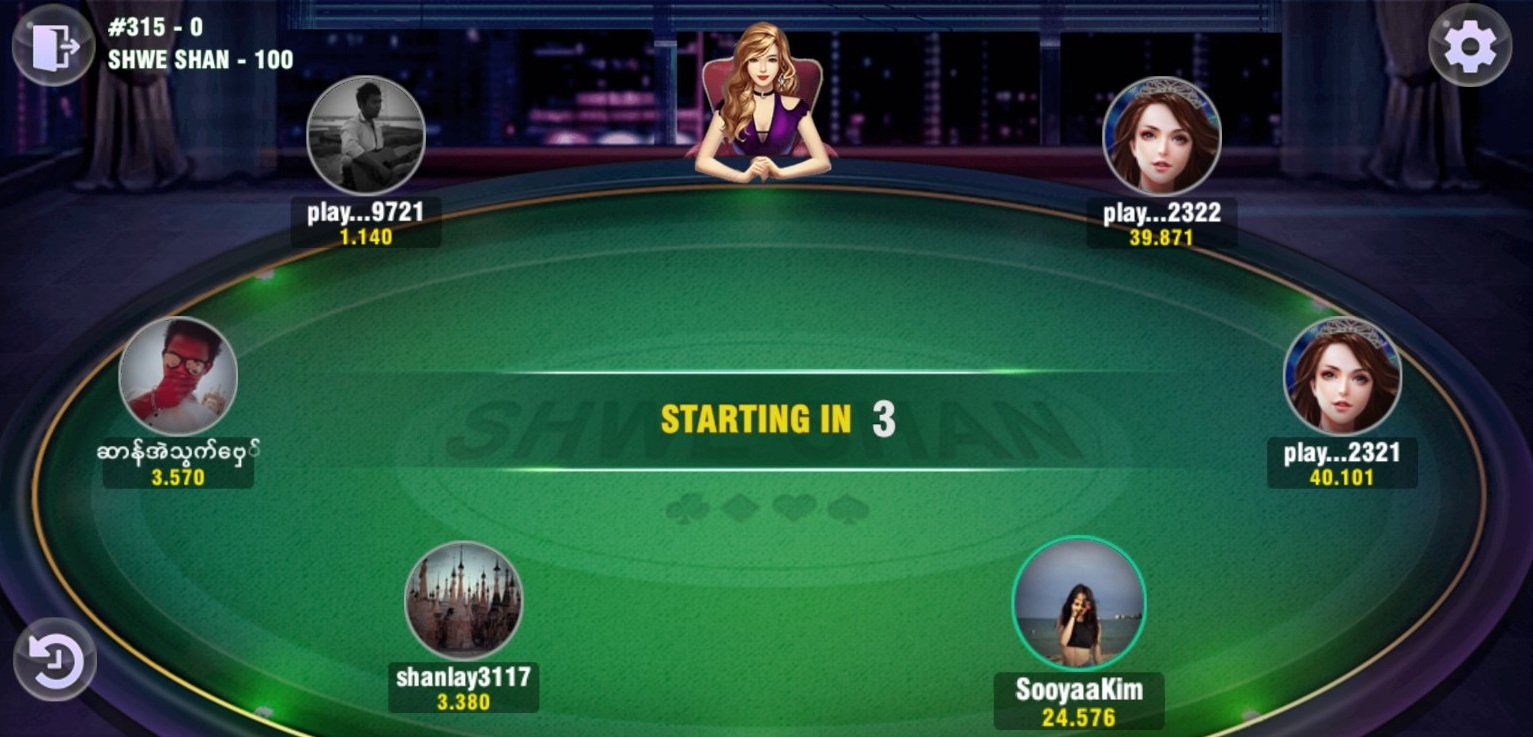 Step 1: Depending on how much bets players choose at first to join the table: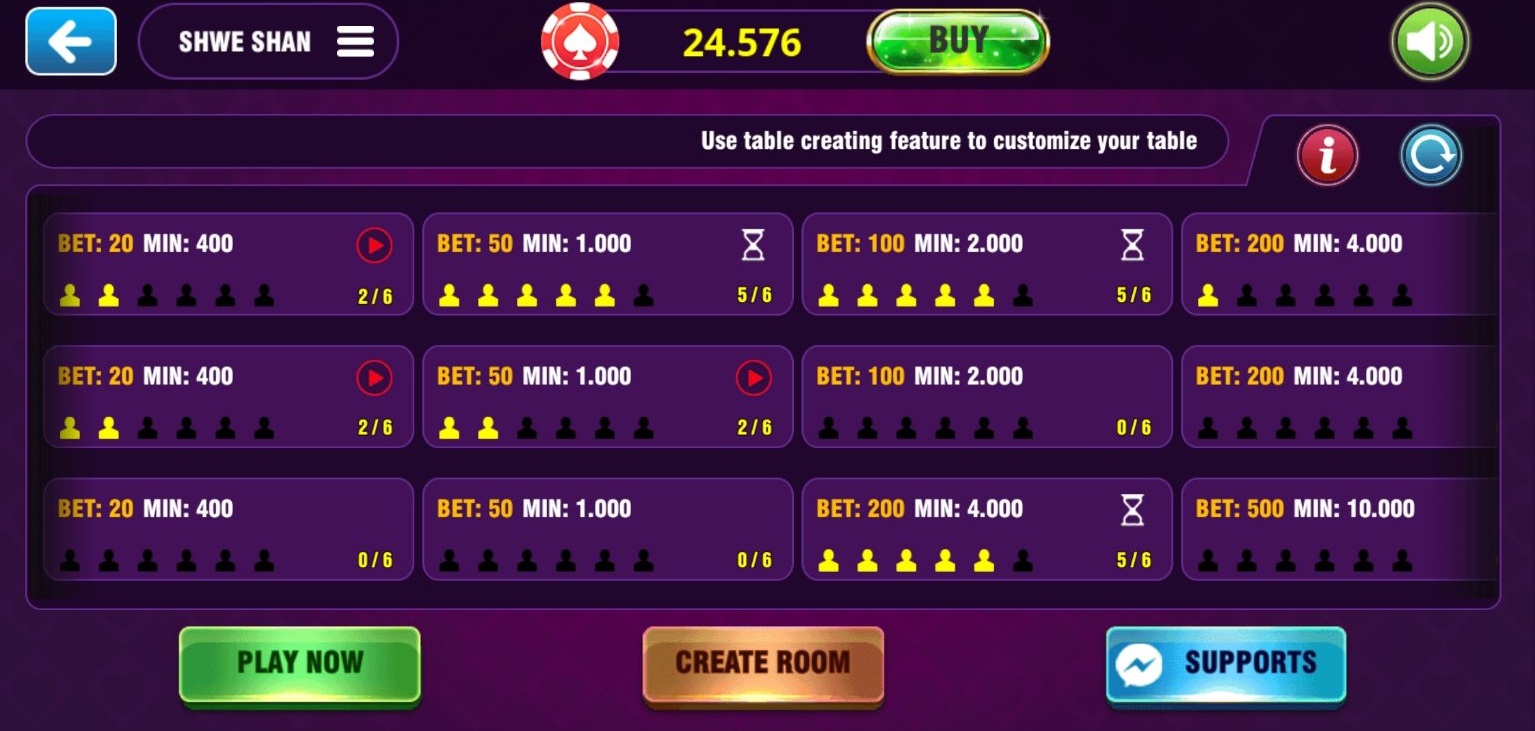 Step 2: Dealer will deal 8 cards to each players and will flip all of the cards to compete 3 Level in a round. Then give 25 seconds to each players to arrange the cards .
Level 1 – The First level of 2Cards must be "Shan 8" or "Shan 9"
Noted - If Player do not get Shan 8 or Shan 9 in the first step , User will not be able to compete in the next Round.

Level 2 - This level is for player who can overcome the first level and player can arrange high card with 3cards .
However, player has 3 cards with the same suits in level 2, will triple of bet amount ( if win)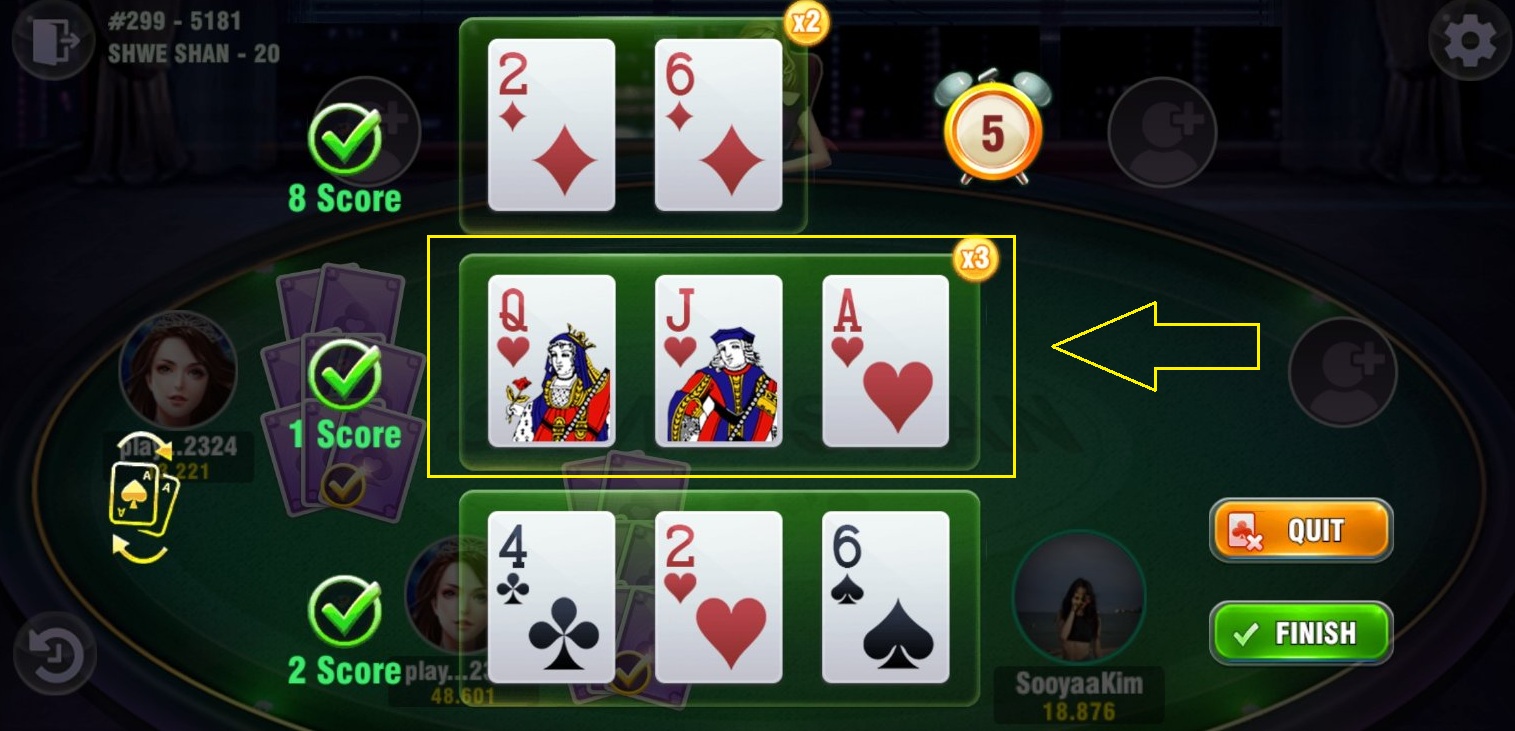 Level 3
– The third level's card and score must be higher than level 2 .
+ If 3 cards have the same suits in level 3, will triple the amount of bet.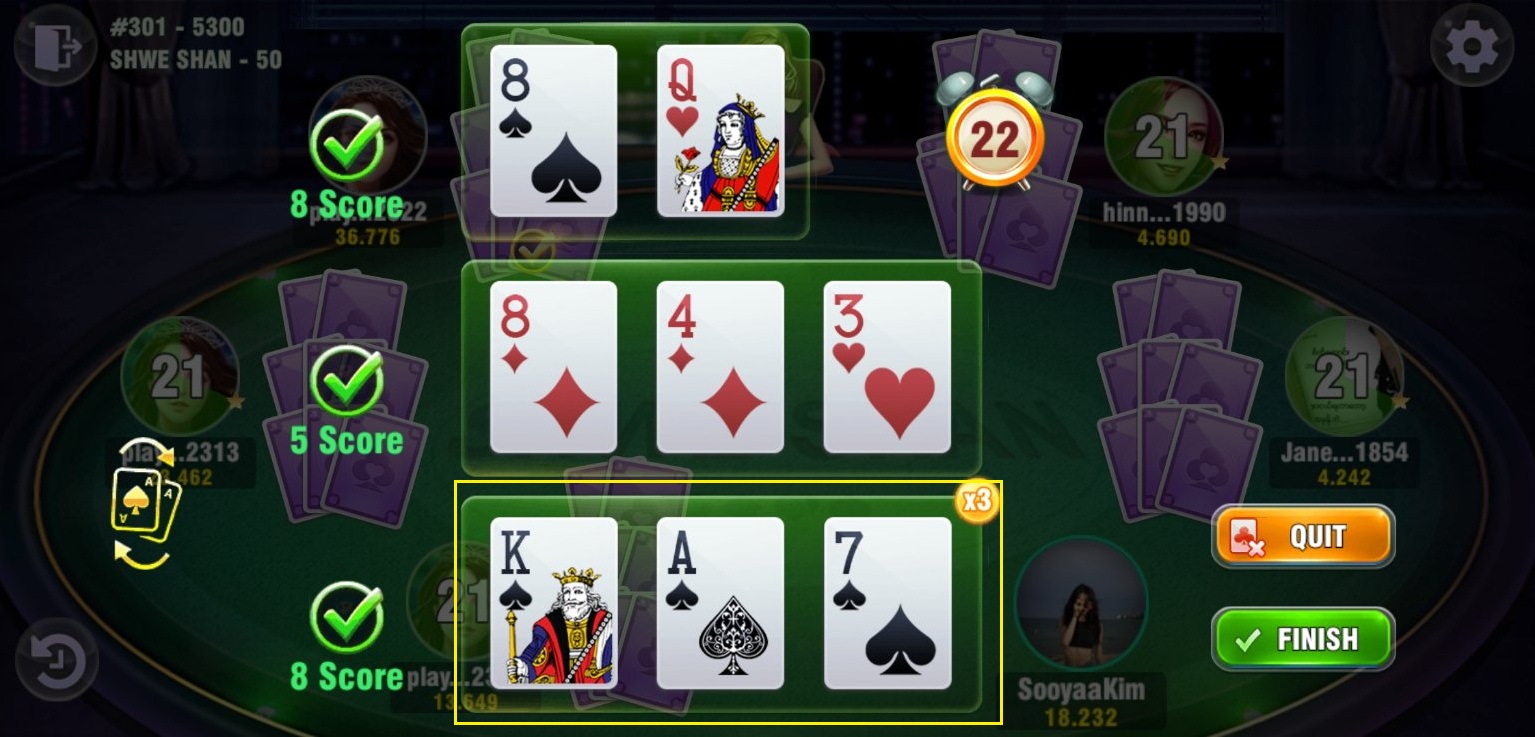 + If 3 cards have the same value in level 3, will fivefold the amount of bet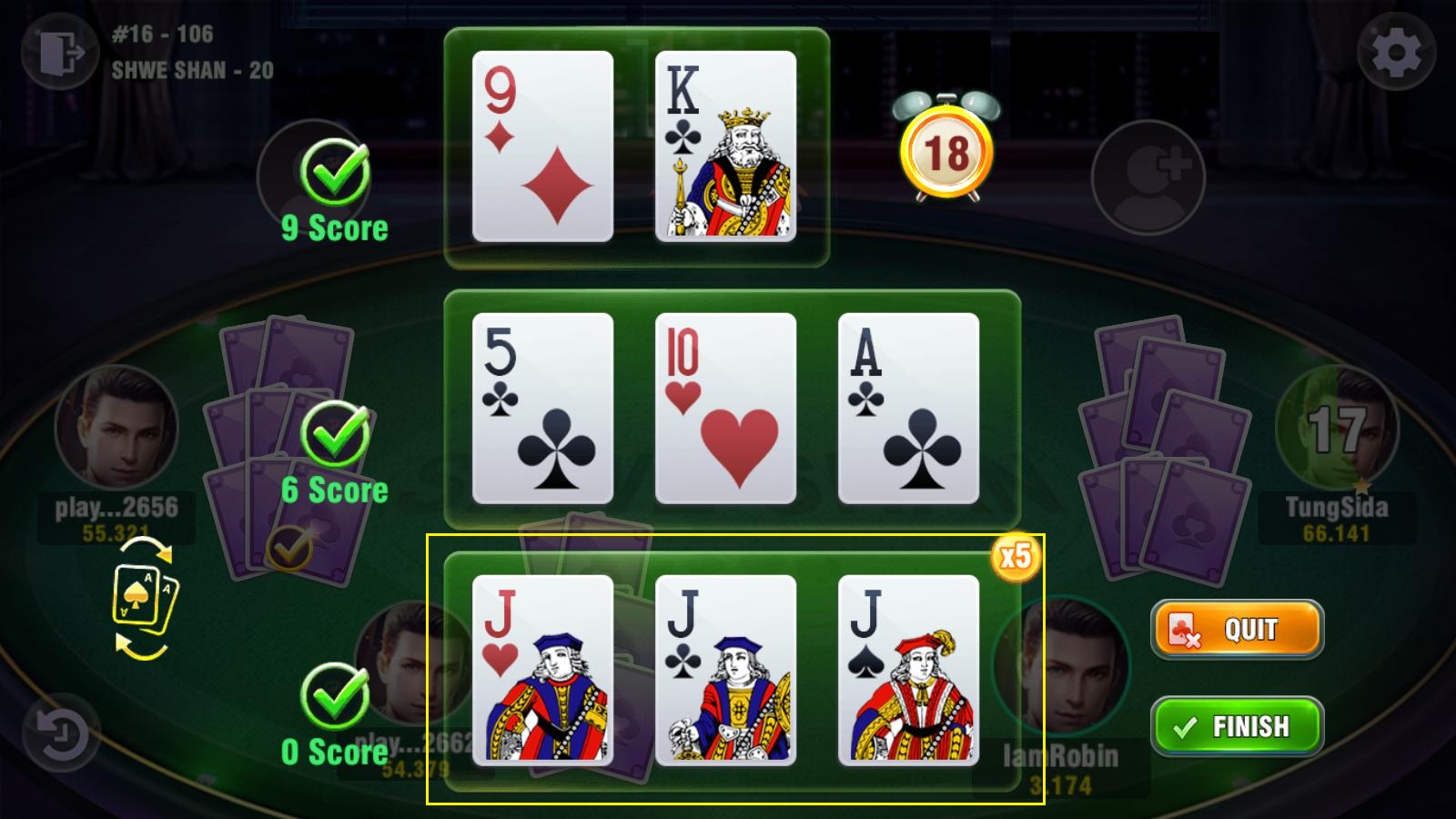 Step 3:
Compare their each cards by level. If player who has the lowest hand, will pay the amount of bet for the other players who has highest hand and determine WIN/ LOSS
3. Rules to win:
+ Winning bets:
+ Single of bet amount if there is no same suits and compare the cards of each level and win .
+ Double of bet amount if 2 cards of first level is Shan 8 or Shan 9 with the same suits
+ Triple of bet amount if 3 cards of second and third level is high score with the same suits
+ Fivefold of bet amount if 3 cards of third level have the same value.
- Give Up – the unarranged cards means that when player does not have Shan 8 or Shan 9 in the first 2 card of level 1, player will lose double of the bet amount to user who arrange successfully.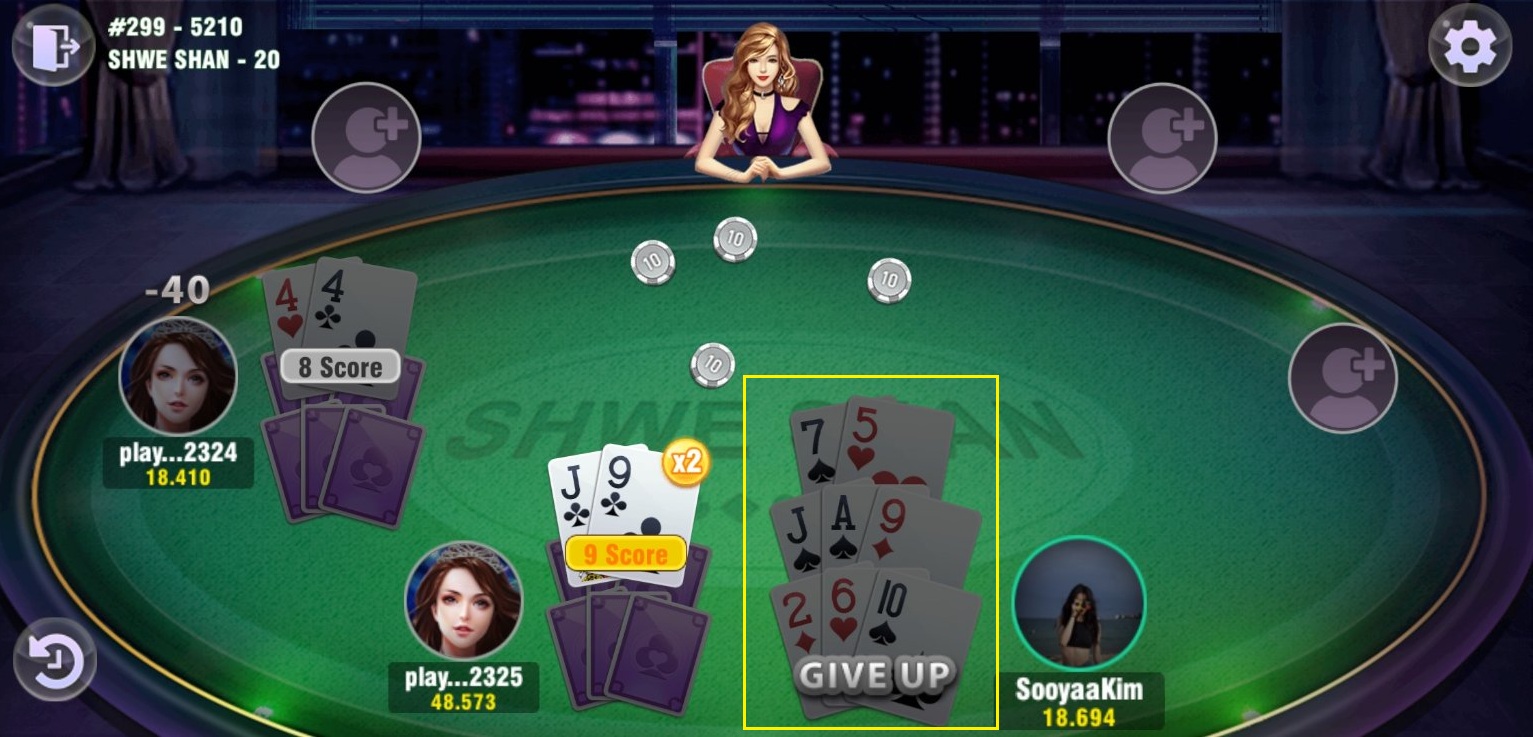 - In case of all users have the unarranged cards, will compare the highest card in the deck.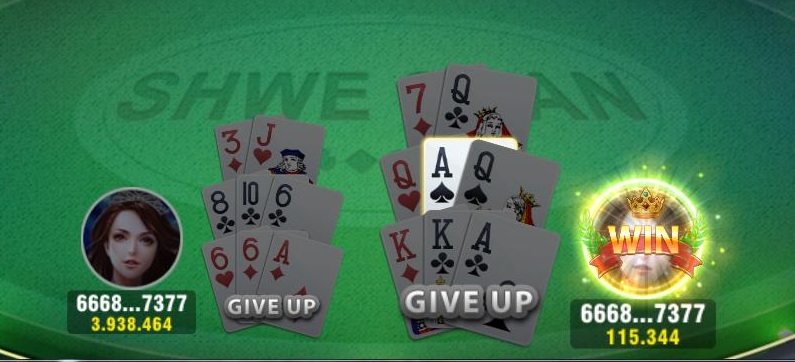 + Hand values:
1. The highest score is 9 and the lowest is 0.
2. If the score is the same, it will be determined by the level of the card
3. Large and small card specifications
Shan 9 and Shan 8 are sum of 8 or 9 with only 2 cards.
Only the card with high score and high suits will win. (9> 8)
When comparing the same value of this card by specifications, User will only win as arranging cards .
(AAA> KKK> QQQ> ……> 222)
Ranking suits -
♠ >

♥

>

♦

> ♣
Noted:
The special thing about Shwe Shan is that there has no involving by dealer to settle for WIN/LOSS and players in the table will play and compare score for win or lose to each other easily!
Wish you have a good time with our game!!!